Publications
Linked below are selected publications by Dr. John Kasarda addressing the basics of airport city and aerotropolis planning and development as well as articles on his work and that of Aerotropolis Business Concepts LLC. A more comprehensive set of publications can be found at www.aerotropolis.com.
---
"One of the ten ideas that will change the world"
Time Magazine, 2011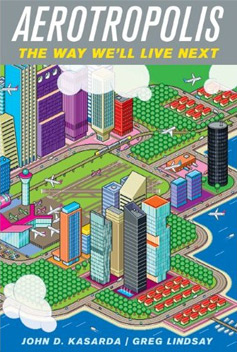 "Major airports are today's urban central stations, attracting and catalyzing commercial activity, employment, and supporting real estate development around and outward from them."
John D. Kasarda
"Hub airports function as gateways of high-value products and high-value people; everything and everybody from biomeds, smartphones, and sushi-grade tuna to corporate executives, investment bankers, and foreign tourists."
John D. Kasarda
"Mushrooming global e-commerce manifests the coalescing of the net age and the jet age. Since the web will not move a box, for every smartphone order placed in London, New York, or Sao Paulo, an aircraft flies it there, typically from China."
John D. Kasarda
"For many businesses and business people, time is not just cost; it is currency, as well."
John D. Kasarda
(supply chain concentration + advanced business services) X air connectivity = urban economic power
John D. Kasarda
"China and the Middle East have embraced the aerotropolis model to create new urban power centers that are challenging the likes of Frankfurt, London, New York, and Tokyo in capturing 21st century global business."
John D. Kasarda
"Where aviation thrives, the metropolitan region thrives."
John D. Kasarda
"One objective of my aerotropolis writings and commentary is to stimulate critical thought and healthy debate resulting in more-informed actions."
John D. Kasarda